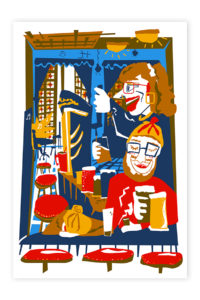 Digital print available
Please shop and find more pictures of this illustration here. 'Bar #1', 'Bar #2' & 'Bar #3' are a part of a series entitled 'People's faces'. In this collection, I would like to share my experience in Irish pubs. There is so much potential to work on from here! I love going to sketch in pubs… With a nice local Guinness, of course!! Meeting people and to enjoy watching sessions. I made the choice to work on the same colours selection, including all these illustrations: warm, day or night light! I am working on the third illustration. This one will be more about the Irish music session in Irish pubs.
George and Eamonn 'Bar #1'
This man's name is Theresa 'Bar #2'
Arthur, Aoife, Peter and Michael 'Bar #3'
PLEASE LOOK AT THE DIFFERENT NAMES UNDER EACH PICTURE 🙂
Hope to hear your recommendations to discover pubs and the celtic music in Ireland.
What is your favourite place to grab a pint after work? Xx
Digital version. Printed in Dublin in high quality. This is about an open edition. The sizes available are: A4, A3 and A2.