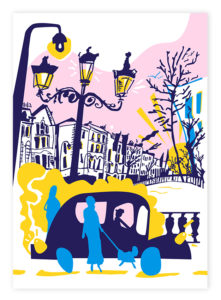 Artwork description: this print, part of the 'Dublin' series, capture the essence of the city. This landscape is about O'Connell Bridge. Showcases Dublin's wildlife, including foxes, deer, and seals. 'Golden Hour' is vibrant, with geometric forms and minimalist design, appealing to all ages.
Digital print: open edition printed with Copper House, Dublin in Giclée fine art edition, high quality. The sizes available are: A4, A3 and A2 (270gsm white fine art paper) on Etsy.
Please find more pictures on my Instagram.