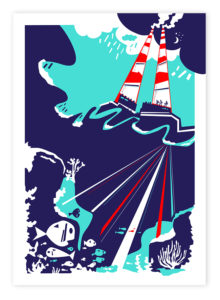 Artwork description: this print, part of the 'Dublin' series, capture the essence of the city. This illustration was inspired by my Sundays spent walking near Poolbeg, an iconic Dublin location. To join my local friends swimming in the South of the Capital in all weathers. Showcases Dublin's wildlife, including foxes, deer, and seals. 'Poolbeg' is vibrant, with geometric forms and minimalist design, appealing to all ages.
Digital print: open edition printed with Copper House, Dublin in Giclée art fine edition, high quality. The sizes available are: A4, A3 and A2 on Etsy.
Please find more pictures on my Instagram.
An hand-pulled screen print made at Damn Fine Print is also available. This hand-craft print medium is an opportunity to highlight the details of the original artwork made by collages and to stay true to the dynamics, feelings and energy of the actual scene.
Technical details: four colours, three layers. Printed on 300gsm white 'Polar' paper. From a signed edition of 40. Dimensions: A3 (297 x 420mm).