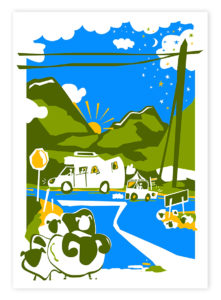 Screen print and digital print available! Please shop and find more pictures of this illustration here
–
Screen print:
5 colours hand-pulled. Limited edition, only 4 left. 297 x 420mm /on 300gsm Munken Polar Rough paper. Edition of 18, signed and numbered by the artist.
Digital:
Vibrant colours too! A4 and A3 sizes available. Opened edition, signed by myself. Printed in high digital quality in Dublin.