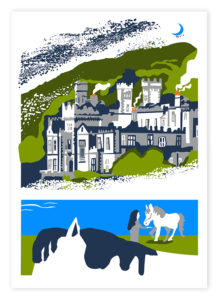 Artwork description: 'Kylemore Abbey' is a part of a series entitled 'The Killary Range'. Inspired by the landscape of Connemara. This print is vibrant, with geometric forms and minimalist design, appealing to all ages.
Digital print: open edition printed with Copper House, Dublin in Giclée fine art edition, high quality. The sizes available are: A4, A3 and A2 (270gsm white fine art paper) on Etsy.
Please find more pictures on my Instagram.