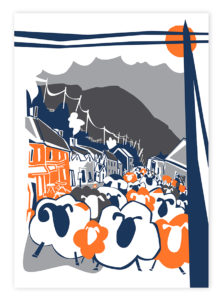 Screen print and digital print available
Please shop and find more pictures of this illustration here
–
'Leenane, here is my home!' is a part of a series entitled 'The Killary Range'. Inspired by the super cute Leenane village. This landscape is about in Connemara. This illustration was hand-pulled in Damn Fine Print, Dublin in 2022 by Stéphanie: 4 colours hand-pulled.
There is two variations of paper:
300gsm Munken Polar Rough paper (white paper)
All of the screen print are in A3 size (297 x 420 mm). Edition of 16 signed and numbered by Stéphanie.
There is also a digital version. Printed in Dublin in high quality. This is about an open edition. The sizes available are: A4, A3 and A2.