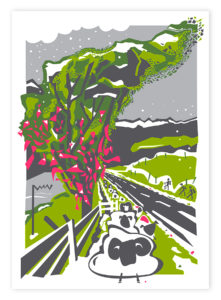 Screen print and digital print available
Please shop and fine more pictures of this illustration here
–
'The Fairy Tree' is a part of a series entitled 'The Killary Range'. Inspired by the spectacular Killary Fjord area. This landscape is on the road between Leenane village and Letterfrack, along the Killary Fjord in Connemara. This illustration was made in Damn Fine Print, Dublin in 2022 by Stéphanie: 5 colours hand-pulled.
There is two variations of paper:
300gsm Munken Polar Rough paper (white paper)
All of the screen print are in A3 size (297 x 420 mm). Neon pink, limited edition of 18 signed and numbered by Stéphanie.
There is also a digital version. Printed in Dublin in high quality. This is about an open edition. The sizes available are: A4, A3 and A2.